Relaxation- Nature – Life
Our Farm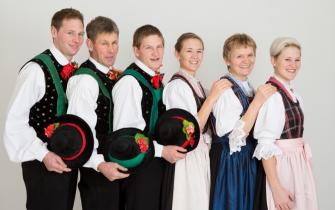 The landlady Hildgegard Plattner was passionate about her own vegetable and herb garden and the home-made cheese, yoghourt, different tea, marmalade and juice. Relax next to our garden-pond and enjoy the nature with frogs, toads and dragonflies. Also our little guests feel comfortable about being free on the playground, next to the forest, on the fields or on the sunny hillside. You are welcome to help and assist the family on the farm.
The farm's animals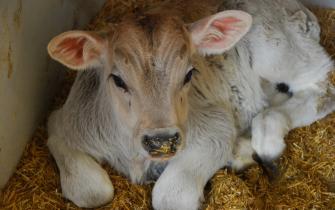 Brown cows, calves from our own cell culture, chicken and rabbits. Farm holidays – back to basics, back to simplicity.
Home-made products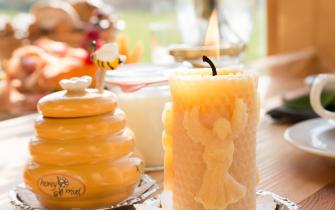 Try our home-made products:
Twice a day we offer fresh bovine milk, home-made yoghourt and 15 different marmalades, fresh eggs from our hens, home-made juices like apple juice, tea from our herb garden and sometimes fresh home-made cheese.
Beehives
Hannes Plattner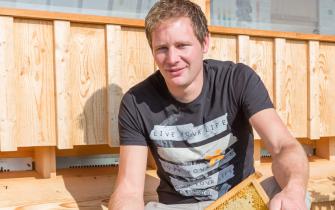 Our farm is also home to an
apiary
, which belongs to our son
Hannes Plattner
.
On a guided tour, you will learn all there is to know about the world of beekeeping on a behind-the-scenes of the apiary, discover the ins and outs of honey, pollen and propolis production and enjoy a tasting session of all our many varieties of honey. On our beehive tour, you will learn a host of fascinating facts about the world of bees and, most importantly, touch, smell, and listen in to this fascinating world.
An incredible experience, then, for all five senses!
And as if that weren't enough in itself, the discovery of beehive air inhalation is an absolute revelation.
Beehive air inhalation therapy
The bee product that we all know best is, of course, honey. Wax, propolis, pollen, bee venom and royal jelly, however, also play an important role in folk medicine.
With the ApiAir device by Hans Musch, the air "stirred up" by the bees is inhaled through a tube breathed in through a face mask. The user has no direct contact with the bees and sits a short distance away, beside the beehive.
We can confirm beyond a shadow of a doubt that the ApiAir mask is a bona fide therapeutic device.
Professor Dr. Habil Eberhard Bengsch:
"Apitherapy, or bee therapy
, broadly speaking, is the most effective and the oldest natural therapy used by mankind. Alongside mainstream medicine, it enjoys a central role in complementary medicine: over 800 pathologies can be cured, prevented and, in extreme cases, at the very least, alleviated by using bee products. No other therapeutic treatment can boast such a wide range of benefits.
Beehive air is used in the treatment of bronchitis, asthma, allergies, stridulous laryngitis, COPD, vulnerability to infection, chronic headaches, migraines and depression;"
For more information, please feel free to write to
Hannes Plattner
directly.
We look forward to your visit!
Our farm's history
Kastner - entailed estate: Salonetto – Meltina
According to the local history, the farm's name comes from the former proprietor:
1330 Jaekelin castenari

1394 Chounrad castner da Meltina

1459 prasente Conrad Castner monte Mileti

1681 Castenerhof

1702 Pircher Simon

1768 Pircher Katharina - inheritor

1768 Pircher Katharina marries Hafner Matthias Gassersohn von Verschneid

1842 Hafner Matthias, Kastner

1921 Hafner Franz, Kastner & Alber Elisabeth; their daughter marries Plattner Benedikt from S. Genesio

1957 Hafner Maria, inheritor, brings with marriage the name Plattner to the farm